Brightlingsea/Point Clear/East Mersea Foot Ferry ALL CROSSINGS/TRIPS MUST BE PRE BOOKED 01206 302200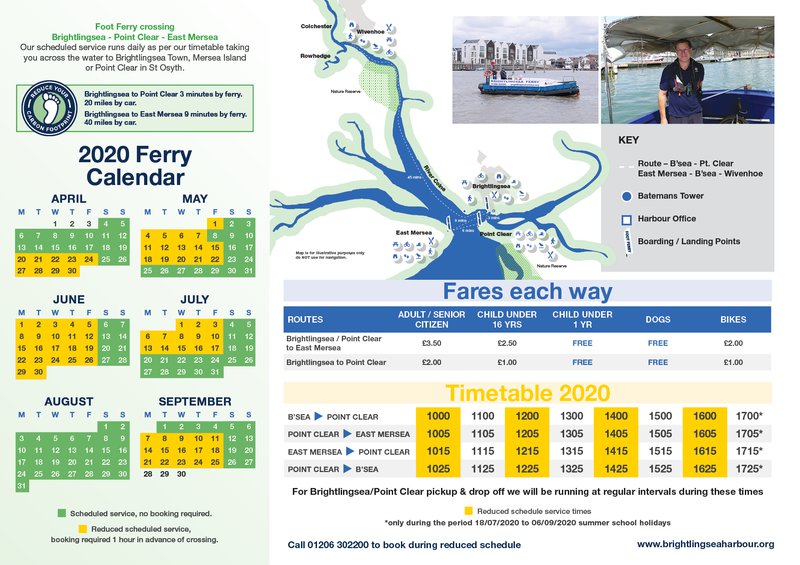 The ferry will be running from 04/07/2020 to 27/09/2020 ALL CROSSINGS MUST BE PREBOOKED
We are now in a position to resume this service albeit a little differently, the scenery and the experience won't change but safety of our passengers is of absolute importance to us so we have made modifications to our ferries and need a little cooperation to make it work.
Here's the plan;
Each passenger will book onto the ferry in advance by calling the office on 01206 302200 or in person and be allocated a seat. Bookings can be in advance or on the day but will be subject to availability.If you wish to join the ferry at Point clear or East Mersea you must book, that can even be done whilst queuing (socially distanced) at the pick-up point.
The cox will wear PPE, Gloves and face covering when within 1 meter of anyone's face.
Passengers should have face coverings available, if not you will be able to purchase one from the Harbour.
The modified ferry has protective partitions between groups of passengers which will only be used in bubbles, therefore can travel 6 independents or up to 12 in bubble combinations.
On entering the ferry passengers will have their hands sprayed with an anti-bac fluid then be directed to their allocated seats, first on one side then on the other, passengers will alight using the same managed process.
We would ask that passengers queue responsibly, keeping 2m apart whilst waiting and at Brightlingsea they should wait by the Bus shelter to be taken down the jetty to the Ferry.
COVID19 UPDATE Please call and pre-book your crossing.
Call Harbour office on 01206 302200 to book
Brightlingsea to Point Clear
Adult £ 2.00 Child Under 16 Yrs £1.00 Child Under 1 YR FREE Dogs FREE Bikes £1.00
Brightlingsea/Point Clear to East Mersea
Adult £3.50 Child Under 16 YRS £2.50 Child Under 1 YR FREE Dogs FREE Bikes £2.00
Prices are each way and payable on board the ferry by cash
We are on Facebook and will update on there any days when its too windy to operate so follow our page now :
https://www.facebook.com/brightlingseafootferry/
CHECK OUR TWITTER & FACEBOOK PAGES FOR UPDATES AND FOR INFORMATION ON TRIPS TO AND FROM LOCAL EVENTS, REGATTAS AND FESTIVALS.