Brightlingsea/Point Clear/East Mersea Foot Ferry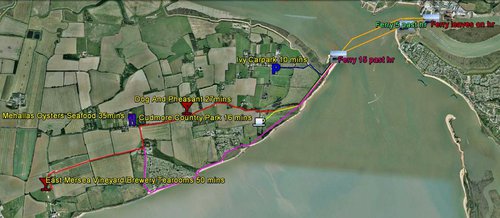 The ferry runs from 30/03/2019 – 29/9/2019.
During :Weekends, Bank Holidays and school holidays, there is no need to book as we run a daily scheduled service starting at 10am until 4.30pm.
To use the ferry at other times please call the harbour office on 01203 302200 to book your seat .Between 20/07/2019 - 01/09/2019 the ferry will operate until 5-30 pm.
Brightlingsea to Point Clear
Adult £ 2.00 Child Under 16 Yrs £1.00 Child Under 1 YR FREE Dogs FREE Bikes £1.00
Brightlingsea/Point Clear to East Mersea
Adult £3.50 Child Under 16 YRS £2.50 Child Under 1 YR FREE Dogs FREE Bikes £2.00
Prices are each way
CHECK OUR TWITTER & FACEBOOK PAGES FOR UPDATES AND FOR INFORMATION ON TRIPS TO AND FROM LOCAL EVENTS, REGATTAS AND FESTIVALS.