Brightlingsea/Point Clear/East Mersea Foot Ferry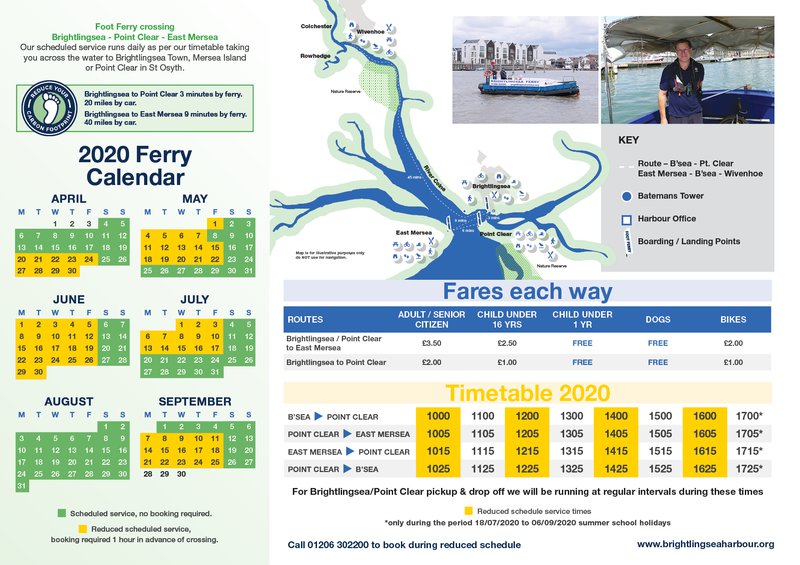 The ferry will be running from 04/07/2020 to 27/09/2020
Outside of school holidays please call and pre-book you crossing. During weekends, bank holidays and school holidays, there is no need to book as we run a to the schedule above regardless of bookings.
Call Harbour office on 01206 302200 to book outside school holidays and weekends/BH
Brightlingsea to Point Clear
Adult £ 2.00 Child Under 16 Yrs £1.00 Child Under 1 YR FREE Dogs FREE Bikes £1.00
Brightlingsea/Point Clear to East Mersea
Adult £3.50 Child Under 16 YRS £2.50 Child Under 1 YR FREE Dogs FREE Bikes £2.00
Prices are each way and payable on board the ferry by cash
We are on Facebook and will update on there any days when its too windy to operate so follow our page now :
https://www.facebook.com/brightlingseafootferry/
CHECK OUR TWITTER & FACEBOOK PAGES FOR UPDATES AND FOR INFORMATION ON TRIPS TO AND FROM LOCAL EVENTS, REGATTAS AND FESTIVALS.