Welcome to Brightlingsea.
Please comply with the poster below. We hope you enjoy your stay, if you need any help please get in touch at the office.
Bienvenue à Brightlingsea.
Veuillez vous conformer à l'affiche ci-dessous. Nous espérons que vous apprécierez votre séjour, si vous avez besoin d'aide, veuillez nous contacter au bureau.

Willkommen in Brightlingsea. Bitte beachten Sie das unten stehende Poster. Wir hoffen, Sie genießen Ihren Aufenthalt. Wenn Sie Hilfe benötigen, wenden Sie sich bitte an das Büro.
Welkom in Brightlingsea.
Houd u aan de instructies van de onderstaande poster. We wensen je een prettig verblijf, als u assistentie nodig hebt, neem dan contact op met het haven kantoor.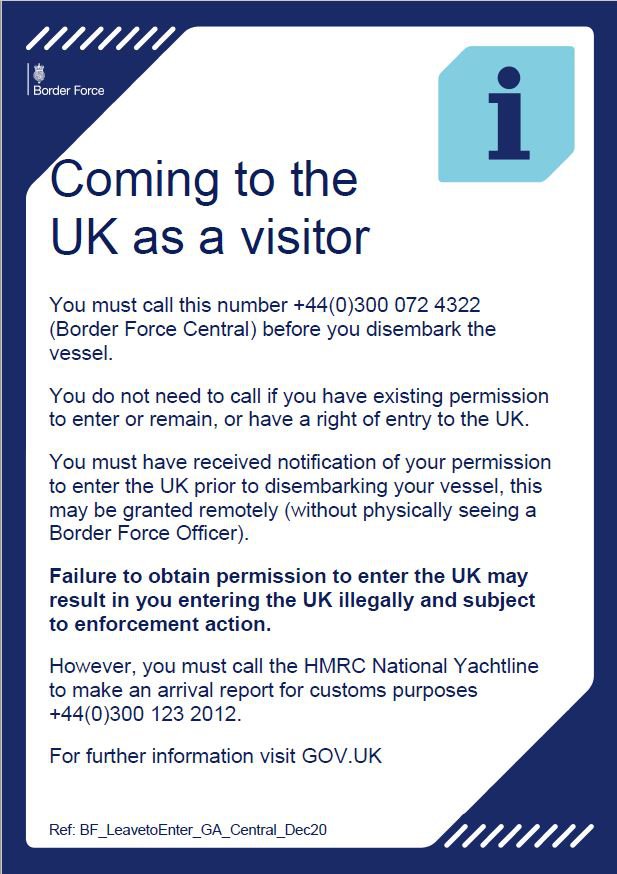 Venir au Royaume-Uni en tant que visiteur.
Vous devez appeler ce numéro +44 (0) 300 072 4322 avant de débarquer du navire.
Vous n'avez pas besoin d'appeler si vous avez déjà l'autorisation d'entrer ou de rester, ou si vous avez un droit d'entrée au Royaume-Uni.
Vous devez avoir reçu une notification de votre autorisation d'entrer au Royaume-Uni avant de débarquer de votre navire, cela peut être accordé à distance (sans voir physiquement un agent des forces frontalières).
Le fait de ne pas obtenir l'autorisation d'entrer au Royaume-Uni peut vous amener à entrer illégalement au Royaume-Uni et à faire l'objet de mesures d'exécution.
Cependant, vous devez appeler la HMRC National Yachtline pour faire un rapport d'arrivée à des fins douanières +44 (0) 300123 2012.
Pour plus d'informations, visitez GOV.UK
Als Besucher nach Großbritannien kommen.
Sie müssen diese Nummer +44 (0) 300 072 4322 anrufen, bevor Sie das Schiff verlassen.
Sie müssen nicht anrufen, wenn Sie bereits eine Einreise- oder Aufenthaltserlaubnis haben oder ein Einreiserecht nach Großbritannien haben.
Sie müssen vor dem Aussteigen aus Ihrem Schiff eine Benachrichtigung über Ihre Erlaubnis zur Einreise nach Großbritannien erhalten haben. Dies kann aus der Ferne gewährt werden (ohne einen Grenzschutzbeamten physisch zu sehen).
Wenn Sie keine Erlaubnis zur Einreise nach Großbritannien erhalten, können Sie illegal nach Großbritannien einreisen und Durchsetzungsmaßnahmen ergreifen.
Sie müssen jedoch die HMRC National Yachtline anrufen, um einen Ankunftsbericht für Zollzwecke zu erstellen +44 (0) 300 123 2012.
Weitere Informationen finden Sie unter GOV.UK.
Als bezoeker naar het VK komen.
U moet dit nummer +44 (0) 300 072 4322 bellen voordat u van boord gaat.
U hoeft niet te bellen als u een bestaande toestemming heeft om het VK binnen te komen of te blijven, of als u het recht hebt om het VK binnen te komen.
U moet op de hoogte zijn gebracht van uw toestemming om het VK binnen te komen voordat u van boord gaat, dit kan op afstand worden verleend (zonder fysiek een Border Force Officer te zien).
Als u geen toestemming krijgt om het VK binnen te komen, kan dit ertoe leiden dat u het VK illegaal binnenkomt en onderworpen wordt aan handhavingsmaatregelen.
U moet echter de HMRC National Yachtline bellen om een ​​aankomstmelding voor douanedoeleinden te maken +44 (0) 300123 2012.
Ga voor meer informatie naar GOV.UK